Currently, I am reading, Bob Wells' book: How to Live in a Car, Van or RV–And Get Out of Debt, Travel and Find True Freedom.
Ironically, I own one of the most popular vehicles to convert into a camper… a mini van!
I used to be absolutely horrified at the idea of living in a van and being technically classified as 'homeless'. We went through some things a few years ago and almost lost everything.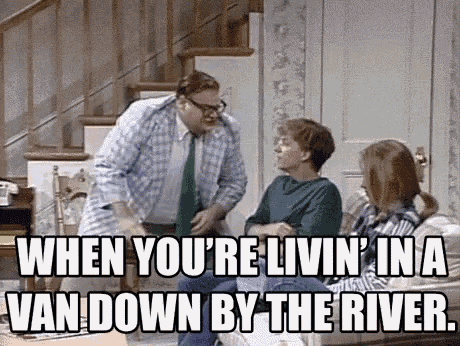 In all seriousness, this used to keep me up at night. Oh the humiliation of no longer being a homeowner. But… why? Corporate America needs its minions so that the great Ponzi scheme that is city life can keep on keeping on, however, I do not want to be one of many unhappy corporate worker bees. I am trying to talk my husband into some sort of alternative income streams so that he does not need to be one either. We are both getting older and a house needs constant attention. Attention that is expensive, hard work.
My parents, my sister and I would go camping often when our family was younger. I thought this lifestyle, van-life as-it-were, was for the younger set. People like Elsa Rae and Barron with their cute dog Camp. LINK However, I have been doing my research and there seems to be many retirees who are not in expensive, ginormous rigs and are happy living a simpler, smaller life.
I'm headed in that direction. I would like to do some of it now and I am working on it… for myself. Considering our gap in age, 11 years, there is a good possibility I will be a widow unless something unforeseen happens and I die first. I am currently doing my own 'Swedish Death Cleaning'. My husband is a bit more attached to his stuff than I am to mine. I don't even want to deal with the hassle of a yard sale but I might need to to raise funds to spruce up the house and make it more appealing for when we sell it. I would dearly love for that to be next summer but who knows.
Trash bags and trash are the focus of my days right now as are repairs to the plumbing. Oh the 'joys' of home ownership.
I have never really fit in with the way most of America runs; work all day, two week vacay, no time for what makes you happy, that sort of things. What I have found is that it brings its own set of sorrows.
There is no one perfect idyllic life but there is a life that works better for some than it does for others. It is just like trying to find the way of eating that works best for you.
I will keep you posted (ha, ha) on progress. I hate to show the before pics of the clutter but maybe I will put some up of the after?
I will keep putting the 'sell the house and downsize' plan out there to husbear. He needs to be happy about it too. As long as I have; him, food, water, a place to sleep, and a toilet all is well.