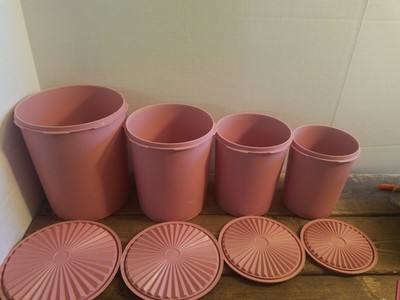 I just ordered these Tupperware canisters off of Ebay. Glorious PINK!
I am trying to figure out how to best organize and utilize my kitchen. I follow certain tradwife ladies on Youtube and some of them love vintage decor. Having lived through the 1970's firsthand, I'm not really into the orange, avocado green, and brown that were so prevalent those days. While I was looking throuhg vintage counter top canisters, I came across several sellers displaying vintage Tupperware canisters. I had no idea they came in so many colors; yellow, almond, green, orange and then… I found them in PINK! Well, truthfully, I found them in a faded purpley mauve, did some searching and found this complete, pink canister set. Why did I buy them?
My mother has this exact set in blaze orange.
and these…
and this…
and these…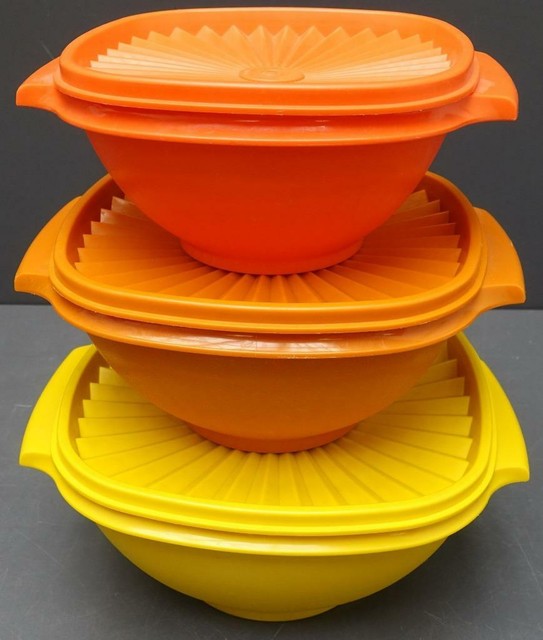 and you know what? She still has them. Talk about longevity and sustainability. Past generations had that all locked down long before 'climate change' became trendy.
My kitchen reorganization is going to include; getting rid of items I have not used in a while, reorganizing food storage, dishes storage, etc.
I'm planning a late summer or fall yardsale. Slow and stead wins the race.
My mother is an excellent housewife. She is great at organizing and decluttering. I will be asking her for her opinion, and advice, often.
I used to have counter top canisters but I found that having them on the counter meant they got dirty often and they were always in the way. My mom uses her counter to store dishes she uses everyday. More on that another time I love how it works and looks. My sister, on the other hand, hates anything being on her counters. She does have a hot beverage station on one smallish counter area near a side sink. Do you have a hot beverage station? I have seen this in other homes as well. Let me know.
How do you organize your kitchen for aesthetics and functionality?
I will post more about the kitchen do-over as it progresses.