My heart aches for my church. I miss it so much. We are closed for the next two weeks because the priest's son has tested positive for Covid-19. Our priest and his family are self-quarantining. Lord have mercy. Even if it were open, I still could not attend.
As I walk through my home, I am SO grateful for the icons that I have. I am greedy and the idea of murals of saints painted on my walls greatly appeals to me! I know my husband would object and I appreciate his wisdom and temperance although… I could also see my home looking like the below pic with the murals.
I was able to go to one Liturgy during the crisis. I wore my mask, the icons were partially covered with gold mesh fabric to remind people not to kiss them, but if that was not enough of a reminder, there were signs reminding us not to touch anything. Orthodoxy had become too Protestant for me.
There are no icons in Protestant churches. But then again… there ARE.
Protestants like to think they do not have icons but they do. The nativity figurines are icons but if you want to get VERY technical, and nit picky… they are actually graven images. So too the bible is a graven image.
Stay with me here: the dictionary shows engrave to be 'archaic'. engrave (an inscription or image) on a surface. A graven image is one that is carved. The original printing press involved carving images, and letters, onto plates, which then had ink applied to them and then they were pressed onto paper to form the image… an image based on a carving or engraving… a graven (carved) image.
You can do more research about the printing process on Wikipedia.
If we were to adhere strictly to the, 'no graven image' bit in the bible, we would need to throw out our bibles and not own a single book.
I get it, I really do. The first time I walked into what is now my home parish, I gasped. Almost every surface of the walls was covered in a mural of a bible story or the image of a saint. I had been raised in churches that at best had felt flags like the one in the picture above, and at worst had nothing but white painted walls to better show case the video or slides being played during worship or the pastor's notes which were projected onto the walls.
Could it not be said then than projecting this man on the screen, in front of the congregation could be considered an icon of sorts? All t.v. and movies then would be placed in that category. People would argue… loudly, that this is ridiculous but think about it; images of pious saints, depicting their lives, their accomplishments; obedience, miracles, piety, humility, etc. have been removed from many churces and replaced with t.v. and movies (in their homes) that depict pornography, violence, gore, etc.
Instead of the Theotokos (Virgin Mary)
or Christ the Pantocrator.
It is the man pictured above on the big screens singing, or the pastor that the Protestants 'get' to look at during worship. Do you 'get it'? It is men you are looking at, not Christ. In the Orthodox Church, the priest spends most of the time with his back to the congregation as he performs his duties behind the iconostasis. Orthodox worship has nothing to do with, 'the guy', the priest, the pastor, or minister. It has nothing to do with entertaining the participants. It's all about Jesus. Everything is about, Jesus. Even icons which do not seem, at first, to depict Him.
my routine in attending worship/liturgy at my Orthodox temple would begin with picking up three beeswax taper candles, dropping money in the candle box, greeting my patron saint,
St. Matrona of Moscow. I then would venerate the Theotokos icon next to St. Matrona, then the, Christ the Pantocrator icon to the right of the door. I then walk down the center aisle to the main icon stand where the featured icon has been placed. This icon depicts whatever is going on in the liturgical year.
After venerating this icon, I walk over to the 'sand box'. This box contains a small, bronze statue of Christ on the cross and on either side of Him are; His Mother, Mary on our left as we look at the statue, and St. John on our right. I light a candle for those who have fallen asleep. I pray the Lord would have mercy on them, especially those who were not saved at the time of their death or who had backslidden. Say what you will but it is not over until, Jesus says it is. I think many of us will be surprised at who is, and who is not, in heaven.
I then 'make the rounds'. Next is the icon of Christ that sits on a podium on the right side of the front of the church. To my left is an Icon of the Theotokos holding Christ in her arms. They are all normally venerated, and a lit candle placed in the sand next to them. Next, I go to confession. I greet my priest with a air kiss above his hand (I've never been comfortable making contact. I know, I know.) and then confession.
All of this has been stripped away with this virus and its protocol. Orthodox worship which had been so warm, loving, inviting and personal- has now turned as cold, lonely, and impersonal as protestant worship.
I am so thankful to God that I have icons in my home.
Orthodox Christianity is intimate on a level at which I had never before experienced and now that has been altered, I hope impermanently.
My dear Protestants, you already have photos of your family and friends, 'religious art', the nativity figurines you put out at Christmas, and your bible. An icon or two is not going to make your house burst into flames. It might even be comforting and uplifting to you.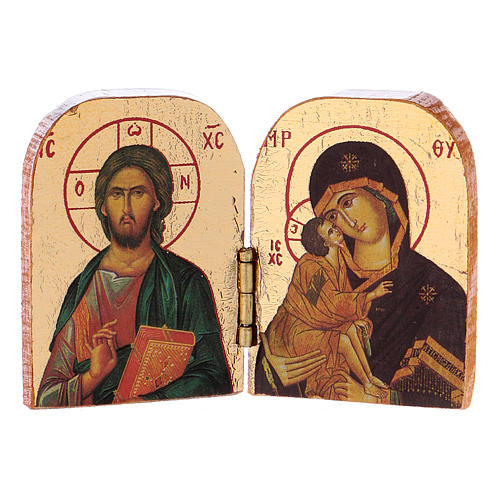 I just had a mental image of someone sneaking away to go venerate their mini icon they have hidden in their sock drawer. It's not funny- ha, ha but it happens. I kept my icons out of sight from my husband for several months in order to keep the peace and not put too much 'new' on him at once. I finally brought them out and put them; first in our dining room on a mission hutch, and now some reside on a book shelf in the living room where I can see them more often, and some on my dresser and night stand. I am working on having an icon of the Theotokos in every room.
Icons have helped me to be a better Christian- I hope… I THINK. They at least inspire me to try harder, to do better. They remind me of church when I am not there and give me hope of one day being able to again worship in my temple.
Here is a good video on icons and explanations about them from another convert. I hope you enjoy the video and it assuages some of those odd feelings you have as a convert, or potential convert, from Protestantism or wherever you have been before Orthodoxy.
Lord have mercy.