I follow a blog; The Old Money Blog written by, Mr. Byron Tully. It was either in a blog post or in one of his books where it was discussed that even having books on shelves in your house can influence your children to be more scholarly. Just as having sports memorabilia sends the message that, 'We are a sports family!'- so too can having books on the shelf send the message, 'We are a family that reads!'. Why is this important? For more than one reason.
Many people report that after graduating from school they rarely, if ever, kept up with reading. Having books on the shelves sends the message that reading is something you do not just at school, but always (Also it helps if your children actually see you sitting and reading… MAKING time to read.) I think this is something Americans in particular find difficult. We have a do, do, do culture. However, reading is so powerful, it has such an immense impact on us in so many ways- both internally as well as externally.
I'm not specifically talking about self-help books. I'm talking about everything. Literature, fiction,science-fiction, fantasy, young adult, historical biographies, historical-fiction, etc.
My parents read to us as kids. We had a large children's library growing up filled with, now, rare books of fables and stories from around the world. The titles of these books have long escaped my memory for the most part but the lessons they taught have stuck with me.
Many years ago, a law was passed that a certain percentage of children's television had to be, 'educational'. 'Educational toys' soon followed and playtime became increasingly structured ('thank you' type-A parents). What these, and other people, failed to recognize or acknowledge is this; people can learn from a book, a toy, unstructured playtime, etc. A learning experience does not need to be labeled, 'educational' or 'this-is-a-teachable/learning-moment' in order for children, or even adults, to glean from the experience. The same reasoning applies to books. It's even better, I think, if what kids are reading is not necessarily overtly obvious that it is teaching them something as the read it or play the game.
The following is a list of recommended books on behavior, keeping a home, growing up, life, etc. They are for the young as well as the young-at-heart.
For younger children, the Brambly Hedge by, Jill Barklem (sadly taken from the world too soon by pneumonia) books make excellent bedtime stories. Now, I'm not an expert on at what age a children should read this, or that. Some of the stories are about living a quaint, mousy life in a giant oak tree filled with goodies gathered from the forest. Some stories are about adventure and daring-do. There is a courtship and a wedding. There is a subtle message about gathering food, working hard, but also having fun. the illustrations are charming, sweet and beautiful.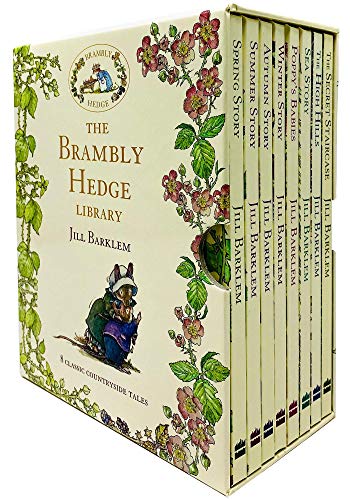 Louisa May Alcott's books, Little Women, Anne of Green Gables, etc, have many teachable moments. She was a prolific YA author. Instead of writing about sexy vampires, she wrote about keeping a home, being a kind-hearted mother, what it took to be a charming woman, etc.
The Wind in the Willows is a wonderful book, but not just for little boys as perhaps some might think (perhaps because there are not too many women/girls in the book unlike the others I have mentioned). The main character, Toad has impulse control issues.  He has loyal, good friend, Badger with whom he has adventures and mishaps.
Stewart Little by E.B. White.
THIS book…
I'm going end this post on this last book but I will do a part two on a later date and perhaps others as well.
What were your favorite feminine stories growing up? What do or what did you read to your children to help them become men and women?